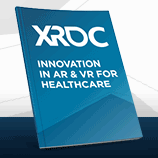 Download this free report to discover how AR and VR technologies are shaping the future of healthcare.

XRDC interviewed virtual and augmented reality innovators to learn more about immersive applications for healthcare, where analysts are predicting rapid growth, with expected market value ranging from $3 to $10 billion by 2023.

The Innovation in AR & VR for Healthcare report is brought to you by XRDC, the conference where the AR and VR ecosystem across industries will gather in October 2018 to share best practices, see the latest technologies, and identify opportunities to drive innovation forward.

Submit the form to view the 2018 XRDC AR/VR Healthcare Report.



By downloading this survey, you agree to receive updates from XRDC & related products.